This Curl Cream Cut My Wash-Day Styling Time In Half
[ad_1]

Before spending the past 12 months embracing my natural hair texture, I was a silk-press queen. I've spent years perfecting the right recipe of products and hot tools to smooth my curls into bouncy, bone-straight strands. Living Proof makes some of my favorite products for keeping my hair sleek during straight days, so it follows that I'd buy into the hype surrounding the brand's new curl-friendly collection immediately, right?
Not so much. Despite running through cans of Living Proof's No Frizz Humidity Shield and Flex Hairspray (both of which are excellent for curling with hot tools, by the way), I was skeptical that the line catered to women with natural hair would actually work as well the products tailored to straight styles. Anyone with natural hair will tell you that curly hair products are not one-size-fits-all, and finding the right routine for you can be a process of trial and error.
Still, I was curious to see how the Living Proof Curl Collection held up, so when my wash day came around, I opened the shampoo and conditioner and got to work, working each product through my wet hair and detangling with a brush. Right away, I loved the shampoo, which created enough lather to make me feel clean but still left the curls in between my fingers feeling soft and defined. The conditioner wasn't my favorite — while the formula felt hydrating and thick enough for my hair, I found myself more frustrated trying to get the conditioner out of the squeeze bottle. That said, I wasn't turned off or disappointed with how my hair felt post-shower, so things were looking up.
I knew the real test was styling. The Living Proof collection includes various products, some catered to loose waves and others more fitting for tight coils. I was intrigued by the Curl Elongator, which claims to beat shrinkage — a bold claim, if you ask me. Still, I was ready to see how it worked on my cropped 'fro.
Section by section, I dampened my hair with water from a spray bottle before raking the product through with my fingers, a technique I learned from my hairstylist Candace Witherspoon. I was immediately impressed with the feel of the cream; it was smooth, milky, and slightly tacky. As I worked the product through, I felt like it gripped and clumped my curls nicely, taking all the busy work out of finger coiling and detangling. Halfway through my process, my curls were popping, and I was excited to see how they looked once dried. I continued through the rest of my hair. Would I say my hair looked or felt longer? Not necessarily. But the cream defined my coils so beautifully, shrinkage was the least of my concerns.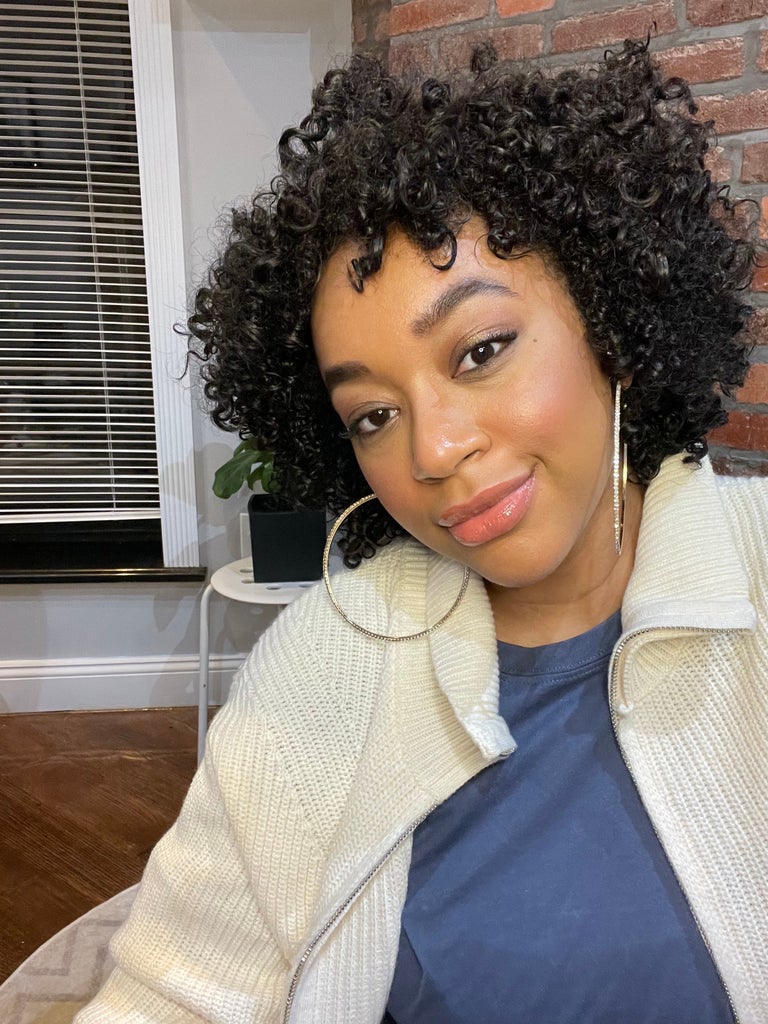 Once all of my hair was coated, I applied two pumps of the Defining Gel and carefully scrunched. I dried my hair with my diffuser on high heat, trying to minimize touching my curls until they were 80% dry. Then, I flipped my head over to complete the process and add some volume. My hair was dried, and I was left with super-defined, soft, shiny curls with no flakes in sight. I used my Afro pick to fluff them up. 
To call the Elongator Cream good is an understatement: It's great, IMHO. It gave me the definition and texture that I'd usually achieve after using three or four products in one sitting, therefore cutting my process in half. I will say that my curls shrunk less than usual, but also keep in mind that my curls are tight and short, so some shrinkage is inevitable (hey, I say embrace it). Since my first run with these products, I've gone through almost an entire jar. Now, my only gripe is what I'm going to do when I officially run out.
At Refinery29, we're here to help you navigate this overwhelming world of stuff. All of our market picks are independently selected and curated by the editorial team. If you buy something we link to on our site, Refinery29 may earn commission.
Like what you see? How about some more R29 goodness, right here?


[ad_2]